MICRONEEDLING & MESOTHERAPY
Mesotherapy is a technique that uses injections of vitamins, amino acids, antioxidants, enzymes, hyaluronic acid, plant extracts and/or microbotox to rejuvenate and tighten skin, as well as remove excess fat.
With age, the natural fats, nutrients and supporting structures of the face begin to decrease as the body starts slowly but surely break down our own collagen, elastin and hyaluronic acid. This results in a skin that is dull and less plump and less youthful. Mesotherapy acts as a booster for the skin; delivering nutrients and natural vitamins that our younger skin once produced naturally via a small needle injected in the middle layer of our skin called the mesodermis. The properties cocktail can contain amino acids, Hyaluronic acid, antioxidants, multivitamin and enzymes. After this treatment, your skin feels hydrated and the benefits continue to improve with time.
Mesotherapy is a recommended to all patient seeking to prevent premature aging, treat acne scars, reduce wrinkles and fine lines, hyperpigmentation, and improvement of stretch marks. Methotherapy can be applied to rejuvenate the skin around the areas of the face, neck, and hands. In other cases, using the right procedure and under the supervision of a medical professional, it can be used as a means of accelerating hair growth and promoting the follicle stimulation of the scalp.
Side effects Of Mesotherapy Treatments
Benefits Of Mesotherapy Treatments
There isn't a standard formula for the substances injected in mesotherapy; therefore, an individual approach is necessary to achieving a glowing, refreshed and renewed skin. Mesotherapy is a safe procedure with no major adverse effects. The most common ones include:
Redness

Sensitivity

Itching

Swelling

Bruising 
Treat acne scars

Reduce cellulite

Tighten pores

Fade wrinkles and lines

T

ighten loose skin

Lighten pigmented skin

Treat alopecia, a condition that causes hair loss
Our skin has a very effective outer protective layer called the epidermis. This prevents most topical creams from penetrating to the level of the skin where they are designed to work making them less effective. At GlowDerma, we use a mesotherapy device called the MesoGold20 stamp as well as a Mesogun. These devices are made of tiny needles smaller than a human hair to penetrate this outer protective layer and deliver any substance below the skin surface. This way, the underlying issues that cause skin damage are addressed more efficiently.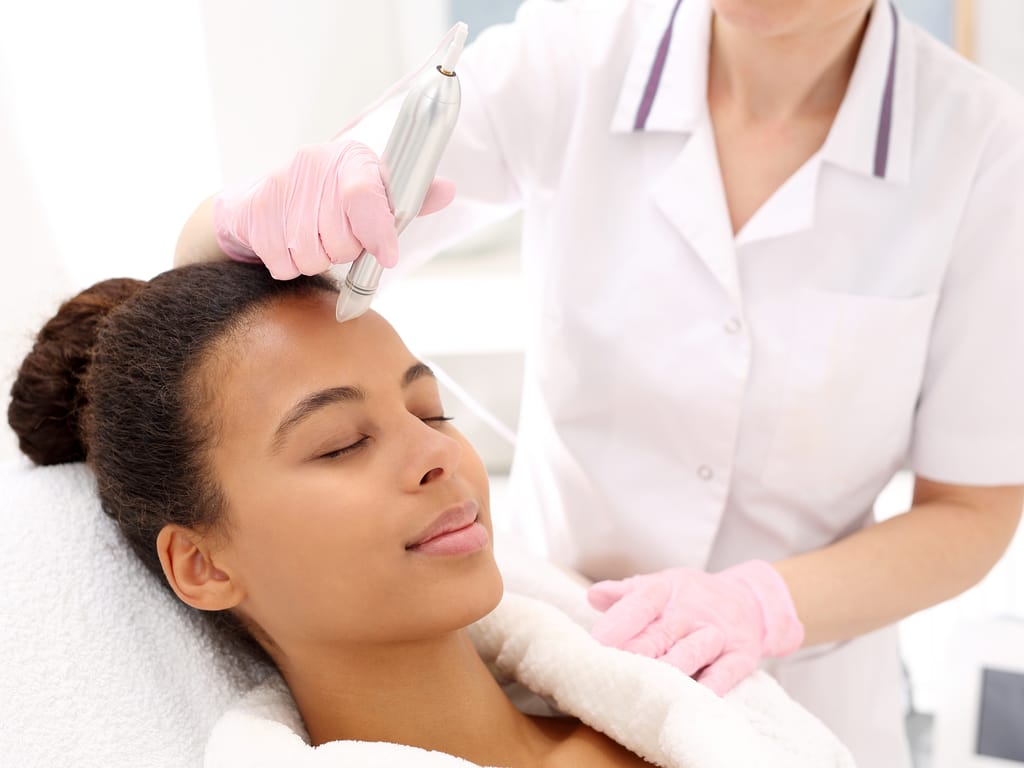 Microneedling continues to be one of our top non-invasive treatments of choice to achieve total skin rejuvenation and incredible skin results. Whether your concerns are scarring, pigmentation, premature ageing or just general maintenance for optimal skin health, microneedling is for you.   Microneedling, also known as collagen induction therapy (CIT),  involves the use of a needling device to create small injures in the skin to activate skin rejuvenation.  These controlled injuries trigger the skin's natural repair processes, stimulating collagen and elastin production.  This procedure is most commonly used to help improve the appearance of fine lines, wrinkles, acne scars, stretch marks, and skin texture.  In the past few years, it has increased in popularity due to its ability to improve skin texture and firmness, and to diminish scars, pore size, and stretch marks.  The results are natural, effective with virtually no risk  to increase volume, firmness, and even skin tone.  Microneedling is sometimes used to help topical skin treatments such as peptides, PRP, hyaluronic acid and and more to penetrate the skin more effectively.  Because microneedling does not deliver heat to the skin, people who have melasma (dark patches)  or hyperpigmentation (dark spots) can undergo microneedling without the risk of worsening their condition.
Microneedling is administered in various ways. One of the most well-known are dermal rollers, which are cylindrical drums covered in microneedles that are rolled over the skin. Similarly, a dermal stamp punctures a specific area using a stamping action. In in the last decade, the introduction of the mechanical microneedling pen dramatically improved the precision of this procedure. Through a series of sessions, microneedling can increase elastic skin fibers. Microneedling also helps the epidermis (the outermost layer of skin), which naturally thins with age, become thicker and tauter.   
WHY GET MICRONEEDLING TREATMENTS? 
WHAT TO EXPECT DURING MY TREATMENT?
As with most in-office procedures, microneedling will increase your skin's sensitivity to the sun. It is best to schedule microneedling sessions during times when sun exposure will be minimal.
While you may see results after one session, it is generally recommended that microneedling be completed in a series of 3-4 sessions spaced every 4-6 weeks and followed by a maintenance program. Your skincare specialist will work with you to design a custom  treatment plan for your skin.
microneedling can help with these concerns:
Acne scars
Fine lines and Wrinkles
Enlarged pores
Hyperpigmentation and sunspots
Lost elasticity and  Stretch marks
Uneven skin textures and tones 
Your treatment is usually 40-60 minutes long depending upon the area being treated.  Deeper microneedling is generally performed with a numbing cream to maximize your comfort. 
After treatment, your skin may experience redness and minor swelling. These effects generally subside within a day, but can take up to one week to fully resolve.  Since your skin is more sensitive following a procedure, it is highly recommended to avoid sun exposure or wearing makeup 24-48 hours following the treatment.  This treatment is further enhanced with our complimentary Epicutis Lipid Recovery Mask. This is an ultra-concentrated version of the medical grade  Epicutis Lipid Serum delivered through a bio-cellulose mask. It is a deeply healing treatment instantly soothes skin on contact — and has been proven to reduce inflammation in as little as 10 – 15 minutes
Avoid Accutane in the six months prior to beginning your treatment sessions.
Do not use topical agents that may increase the sensitivity of your skin such as retinoids, exfoliants, topical antibiotics or acids 5-7 days prior to your treatment.
Do not take anti-inflammatory medications such as ibuprofen, Motrin, or Advil for at least 3 days prior to your microneedling session. These will interfere with the natural inflammatory process that is critical for your skin rejuvenation.
Avoid IPL/Laser procedures, unprotected sun exposure, or sunburn for at least 2 weeks prior to your procedure.
No waxing, depilatory creams, or electrolysis to the area being treated for 5-7 days prior.  
Do not shave the day of the procedure to avoid skin irritation. If there's dense hair present in the treatment area, shave the day before you arrive for your appointment.
If you're prone to cold sores, please let us know as our physician can prescribe an antiviral agent for 2 days prior to and the day of the treatment.
Avoid blood thinning agents for one week prior because bruising is a common side effect of microneedling.