Ombré brows also known as powdered brows is a two- step procedure (the initial and a mandatory 6-8 week touch up).  This procedure is  essentially an accumulation of pigmented pixels that creates a natural gradient effect that make the healing process faster.  It is a semi-permanent technique that involves the use of a makeup tattoo machine that creates a natural, gradient effect.   Soft towards the front and more dense in colour towards the tail by giving the final result a soft powdery makeup look that is unlike microblading where you can see the individual hair strokes.  Densities can range from soft & natural, medium to bold and sharp depending on the client's desired look. 
Annual touch ups are recommended every 6-12 or 18 months.  After initial procedure colour will diminish 40% and shrink in size about 25% within 7-16 days post procedure.   Unlike microblading, this procedure is suitable for all skin types. 
Following these instructions carefully will reduce skin sensitivities and limit bleeding during the appointment.  Excessive bleeding during the procedure can dilute and reject the pigment, which leads to poor healed results.  
4 Weeks Before Appointment
Avoid Botox and fillers around forehead and brow area (advised to get semi-permanent makeup
first)
2 Weeks Before Appointment
Avoid laser treatments, microdermabrasion, chemical peels, electrolysis on the face.
Avoid active facial ingredients: retinols, retinoids, glycolic, any exfoliating acids, anti-aging creams
7 Days Before Your Appointment
Discontinue multivitamins, vitamins C & E, turmeric, ginger, gingko biloba, flaxseed & chia
seed oil, fish oils (you may continue with iron supplements)*consult your doctor before
stopping if you use as daily medication
Avoid tanning beds, brow tinting, brow waxing
48 Hours Prior To Your Appointment
Discontinue any anti-inflammatories: Advil, ibuprofen, naproxen, Aspirin (Tylenol is fine),
Avoid alcohol
Avoid recreational drugs and  Smoking
Day Of Your Appointment:
Lightly exfoliate to be treated area
Avoid exercise
Avoid caffeine  (coffee, DECAF, caffeinated teas, Coke, Diet Coke, chocolate, energy
drinks, etc)
Feel free to bring a couple eyebrow reference photos to showcase your preferences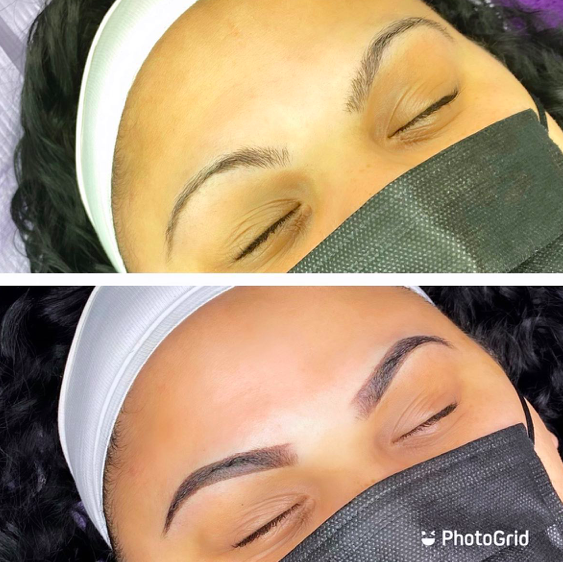 Please remember that the healing process can take 2 weeks depending on the client's lifestyle.  Light scabbing, redness and tenderness can be expected.
IN THE FIRST 24 HOURS
Do not touch the healing pigmented area with your fingers.

With a clean and dry tissue, blot gently over the area to remove excess lymph fluid every 15-30 minutes to prevent hardening of the lymphatic fluids.
Before sleeping, rinse your brows gently with water and pat dry with a clean and dry tissue.

Apply a thin, rice grain-sized AfterInked Ointment using a cotton swab.
AFTER 24 HOURS (Day 1-10)
The color may appear darker in the first few days.

Continue to wash brows gently each morning and night with water and gentle unscented cleanser (Cetaphil/Cera Ve) to avoid build up of oils, bacteria and dead skin, using fingertips in a light circular motion. Rinse brows properly, without leaving any soap on the brows.

Pat dry your brows and apply a thin, rice grain-sized AfterInked Ointment using a clean cotton swab. Do not over apply as this will suffocate your skin.

Repeat the first two steps in the next 7-10 days (morning and evening)

NEVER put product on a wet or damp tattoo.
IMPORTANT NOTES ON HEALING
Discontinue applying ointment after peeling has completed.
A thin layer of dry skin will appear as your brows heal and let it naturally exfoliate away. Picking and scratching can cause scarring or loss of color.

Do not apply make up over healing areas.

Avoid excessive rinsing and hot water on the treated area. That includes sweating/exercise, direct sun exposure, saunas, hot showers and swimming for the first 10 days. Wear a hat when outdoors.

Your face should only be getting wet at the end of the shower.

Avoid facials/botox/chemical treatments up to 6 weeks after your procedure.

Avoid products containing AHAs (glycolic, lactic acids or Retin-A) on or near the brows for 4 weeks. This will only help fade the pigments.

Avoid sleeping pin your face for the first 10 days. Use a fresh pillowcase while you sleep.

Use broad spectrum sunblock after the area has healed to slow fading.
ARE THERE CONTRAINDICATIONS?
The healing process can take 2 weeks depending on the client's lifestyle and choices.  Light scabbing, redness and tenderness can be expected.  We recommend you consult with your doctor if you have any of the following medical conditions, as the procedure is not recommended for you:
Active Cancer
Diabetes
Epilepsy or autoimmune disorders
Bleeding disorders
Active viral infection(cold sores)
Active skin irritations
You are on blood thinning medication
You have a major heart problem
 You are pregnant OR breast feeding
You have had an organ transplant
You have uncontrolled high blood pressure
A touch-up is recommended to improve the pigment retention.
Our brow specialist Laetitia will care on: